Do you have sufficient leads?
Are your salespeople overflowed with more leads than they can handle?
Are these leads high quality?
Once you are in business, you need to find an efficient way to inform people about your products and services.
Without prospective customers who are interested in your products and services, your business is going to fail, no matter how good your business model is.
This is why you need to promote your business.
Promotion is basically letting the right people know that your brand exists.
And if some of those people are interested, it's up to your sales team to engage with them and convert them into actual, paying customers.
The need for ROI-centric promotion
Unless you are Byju's with billions in investor's money to burn, as a marketer you have to show the ROI of your promotional activities from day 1.
Which is a good thing, because there is no hiding anymore.
But it also means you can only choose mediums and channels that provide sufficient ROI. You can't try 400 things or just run TV ads because that's the only thing that works.
The problem with all the old ways of promotion
Whether it is SMS/Email blasts or Google/FB ads, these old ways of marketing have a basic problem…
They are not effective anymore.
When was the last time that you checked the results of your SMS or Email marketing campaigns?
Plus the ROI from these channels is practically down in the gutters…
So as a marketer are you satisfied with these low ROI channels?
Heck, it doesn't even matter if your answer is yes because no business owner in their right mind would continue working on these channels. After all, they are just not sustainable.
For example, let's look at the reason why these channels have such low ROI.
There are a few reasons why SMS and Email Marketing can be ineffective.
1. It comes off as spam.
Sending someone an advertorial SMS violates their right not to be bothered by ads and can count as spam. Even the Supreme Court of India counts it as spam. If you send SMS to people who do not want to be related to your brand, you are wasting your precious marketing budget and time.
2. Nobody is going to read it.
Nowadays, people can delete SMS without even opening the whole body. So your entire SMS will either be filtered out by truecaller or if not, it won't be viewed by most people.
Plus don't even get me started about the new effective filters in Gmail. That's the reason why even the people who sell bulk email services don't use them for promotion.
3. 160-word limit.
The amount of text that you can send through an SMS is limited to 160, and that's what makes them fun. However, if you are a marketer then that sucks big time!
4. Limited audience.
You must think about how it is possible to have a limited audience when almost everyone carries a cell phone. The truth is that almost everyone puts their SIM card on the DND list when they buy one. If they do not put it there, they use Truecaller which filters out all promotional messages.
So if you choose SMS marketing, your audience is already minimal.
5. Nothing new about you.
In email marketing, your potential customers receive hundreds of emails that promote a product or service. Most businesses send the same email to everyone. To get your audience's attention, you have to show that you know them and their problems.
Instead of providing the potential customer with a link to buy something, you should think about how you can provide value to them. When they see the value in your emails, they will automatically think about doing business with you.
6. Boring and lengthy emails.
Most email marketers have made it a habit to tell a story in their emails. While it is always beneficial to connect with your potential customers on a personal level. The truth is that no one has the time to read lengthy emails, so most of your subjects will never read your email.
7. Most emails lack personality.
An email aims to get the reader to engage with the brand. You can only get the readers to engage with your brand if your emails have personality. Unfortunately, most marketers send monotonous automated emails that fail to connect with the reader.
The truth is that even the most popular paid marketing options, such as SMS marketing and email marketing, have problems. You should not get stuck with them just because they are popular.
If you find a suitable alternative for your business, then there is no harm in trying that.
WhatsApp messaging is a suitable alternative.
Let's compare SMS and email with WhatsApp Marketing.
All your WhatsApp messages get delivered (As long as you have the right WhatsApp number).

99% of those messages get read by the audience, and most of them get read instantly.

If you can properly craft a message grab attention with images and deliver value, then you can get close to 100% replies.

Plus with the help of the new WhatsApp cloud API, you can target users in bulk giving you promotion superpowers.
The ability to hook up businesses with their users in real-time is unprecedented.
To reap the benefits, you must know how to send bulk messages on WhatsApp Business. There are various features in WhatsApp that you can use for your benefit. These features are not available in SMS or email marketing. You can even automate multiple WhatsApp features with WhatsApp Automation to reduce manual load by a lot for yourself and your team.
1. Run unique campaigns.
WhatsApp enables you to run unique campaigns. For example, you can ask your recipients to share images of them using the product or service. In return, you can offer them various discounts or free products. This is the best way to get testimonials from actual users.
You can also promote your product by bulk WhatsApp messages to your prospects or customers. However, to do that, you must know how to send bulk messages on WhatsApp to unknown numbers, which is what we'll cover in this article.
2. Use WhatsApp to provide excellent customer service.
Providing customer service is the best way to retain a customer. If your brand cannot solve customers' problems, you will lose them.
Brand promotion is useless if you cannot retain the customers you gain. With WhatsApp's official API, any company can make it easier for customers to ask for help.
In recent years, WhatsApp has helped companies in providing top-notch customer service. Most people these days prefer to get customer service through WhatsApp instead of call or email.
People just have to text the company's number, and they get an instant reply. WhatsApp is an affordable mass communication tool that small businesses use to promote, provide customer service, and even sell products.
SMS Marketing has not lived up to its hype, and most marketers get email marketing wrong. That's why WhatsApp can be a potent tool for your business.
But WhatsApp is not for blind promotion
You have to understand that WhatsApp is a personal messaging platform and people do not expect promotional messages from unknown businesses.
WhatsApp itself has strict policies around who can send bulk messages and the content of those messages.
Plus, you should focus on targeting a high-quality audience instead of just using a bulk messaging feature to send bulk messages on WhatsApp to everyone.
Because, if the people receiving your messages are not interested then it's spam and spamming people is not the same as marketing.
if you put a little bit of time and effort into targeting your audience and crafting your message then you can leverage WhatsApp as a marketing platform to get great responses but if you try to use it for blind promotions then you are up for heavy penalties from WhatsApp.
If you use WhatsApp for blind promotion, you can do it in one of two ways
Bulk messages on WhatsApp from your personal or business WhatsApp number, if you do blind promotion your number will be instantly banned. First temporarily and if you keep using the bulk WhatsApp sender feature doing the same thing again and again then it will get you permanently banned from WhatsApp.

Send Bulk messages through the official WhatsApp cloud API is strictly monitored and tracked by WhatsApp and they keep track of how people react to your messages if they report or block your number then WhatsApp reduces the sending limit of your number by one week. If you continue doing the same thing then can't even reduce your sending limit permanently.
So before even considering WhatsApp as a marketing channel for your business answer a few basic questions like
Which customer segment are you targeting with these messages?

What type of message will trigger them to be interested?

How do I filter out the people who are not interested?
If you have answers to these questions, your WhatsApp marketing campaign will be successful.
Do not do Blind WhatsApp Promotion
However, if you do not have answers to these questions, it is the same as shooting arrows blindly. They will do more harm than good and are no better than an SMS campaign. If your messages annoy the receivers, they can report your account, which can get your account blocked.
The good thing is now you already know how to send bulk WhatsApp messages without getting banned.
People do not like not having a choice, so you should ask them before sending a message. The truth is that customers are interested in a brand when they need a product or service. When someone needs your product and receives a WhatsApp message from you, they will welcome it.
However, they will not want to receive your WhatsApp messages when they no longer need your product. So always give people the option to unsubscribe. This increases the quality of your messaging list.
How to send bulk WhatsApp messages.
There are two official ways to send bulk messages on WhatsApp.
Use WhatsApp Business App: You can use the WhatsApp Business App available on both the Play Store and App Store for users to download and use for Business Communications. It has many features that can help a business, but the one that can help you with sending multiple messages is Broadcast messages. Send messages to up to 256 contacts in a single go.

Use WhatsApp API Account: The WhatsApp API, developed by Meta, allows your business to engage with customers on WhatsApp. It has a lot of features which could be used for business communication, but one of the best is the capability of sending bulk messaging officially.
Set up the WhatsApp Business App to send WhatsApp bulk messages
Here's the step-by-step process on how to send a broadcast message using the WhatsApp Business app:
1. Open the WhatsApp Business app, tap the three dots in the top right corner and Select "New broadcast".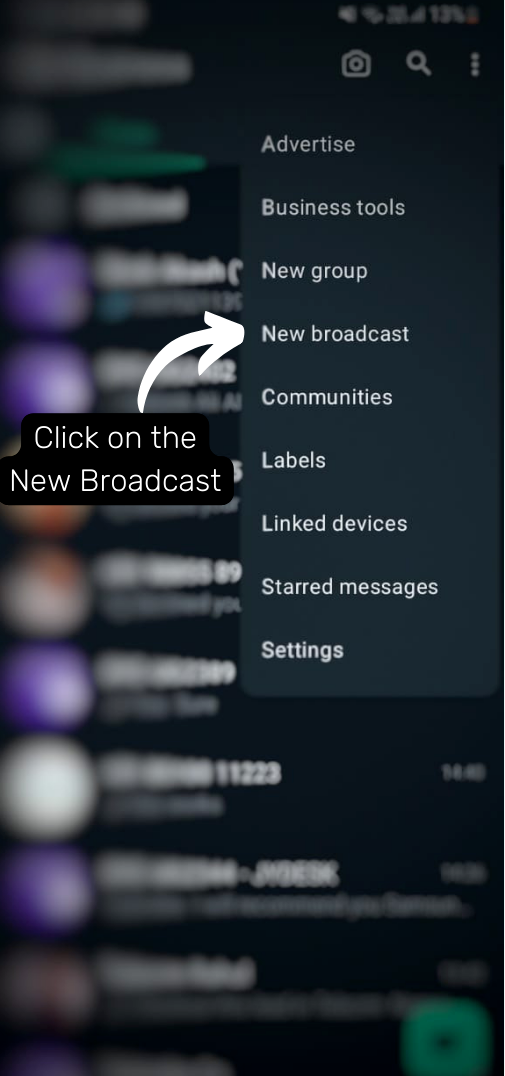 2. Search for or select the contacts you want to add to your broadcast list. You can add up to 256 contacts. Then Tap the green check mark to create your broadcast list.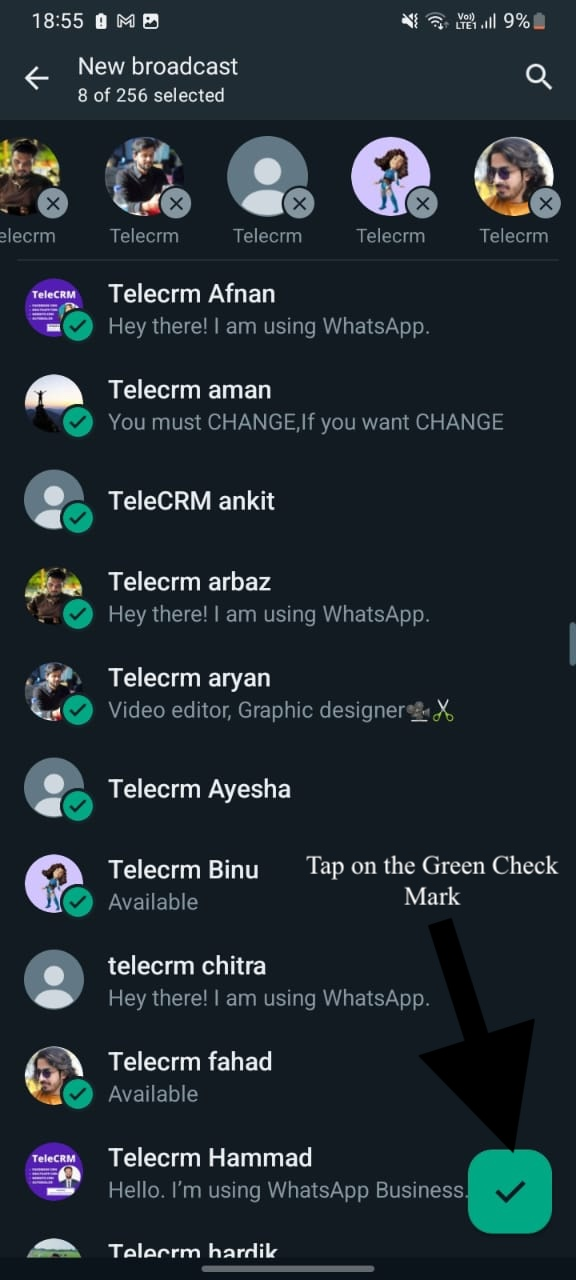 3. Compose your message and tap the send button
Your message will be sent to all of the contacts in your broadcast list. They will receive the message as a normal individual message, and they will not be able to see the other recipients of the broadcast.
Here are some additional tips for using WhatsApp broadcasts:
Use broadcasts sparingly: Sending too many broadcasts can annoy your customers and make them less likely to open your messages.

Personalize your messages: Use your customer's names and other personal information to make your messages more relevant to them.

Use a call to action: Tell your customers what you want them to do, such as visit your website or call your business.

Track your results: Use WhatsApp's analytics tools to see how many people are opening your messages and clicking on your links.
By following these tips, you can use WhatsApp broadcasts to effectively reach your customers and promote your business.
Use WhatsApp API to Send Bulk Messages on WhatsApp
Before sending bulk messages to your target list, you need WhatsApp Business API access. For that you just need:
A phone number with which you can apply for WhatsApp API (You need a number that has never been used on WhatsApp before i.e. a New Number).

You need a Business GSTIN to verify (For Indian Businesses).

A business name.

A verified Facebook Business Manager ID. You should set up a Facebook page for your business to get this ID.

A debit/Credit Card for Payment.
Now you can get API access even without a verified business manager account
Once you are ready with these details, you can sign up for the business account.
Here's the step-by-step process for signing up for a WhatsApp cloud API account.
Open developers.facebook.com.

Go to My Apps and click on Create App.

Select app type as business and click next.

Fill out the details and click Create App.

Select WhatsApp from add products.

Now scroll down and click on the add phone number.

Fill out the details about the WhatsApp business account (this is what will be visible to the users).

Enter a phone number and verify with OTP.
Watch this Set up WhatsApp Cloud API video to understand better with visuals
A few things you must know before using WhatsApp Cloud API for your Bulk Messaging Campaigns
1. Business verification
It's not necessary to have a verified business with Facebook to use WhatsApp API for marketing but without a verified business you get very low messaging limits and it is recommended to verify your business with Facebook.
2. Quality rating of your API number
A quality rating can affect your ability to send bulk messages on WhatsApp. If someone receives a message from you as a part of your message campaign and reports the account, your quality rating is negatively affected. Later, your account's status will become flagged.
You cannot upgrade your number's messaging limit when your account is flagged. You must improve your account's quality ratings in a week. Otherwise, a lower messaging limit will be applied.
3. How to move up the different messaging tiers?
If you are stuck with a lower limit, you must wonder how you can escape this trap. You can only rely on consistency and quality if you wish to move up the messaging tier. There are four messaging tiers in WhatsApp Business API.
Tier 1 will let you send messages to 1,000 people per day.

Tier 2 allows you to send messages to 10,000 people per day.

Tier 3 will enable you to send unique messages to 100,000 people per day.

Tier 4 will allow you to broadcast messages to an unlimited number of people daily.
The goal for every business is to reach Tier 4. However, it is challenging and truth be told, Tier 3 can meet your promotion goals. Every account starts with Tier 1, and the goal is to move upwards with time.
To increase your limit, you should have an above-average quality score. If your current limit is one thousand messages per day, then it should be your responsibility to send more than 2000 messages per week.
This will show that you are consistent without sending spammy messages. Once you reach this threshold, your account will move to the next tier within the next 48 hours.
4. The Cloud APIs Bulk WhatsApp messaging charges.
WhatsApp charges you per conversation, not per message
This means after sending a message to a number you get a 24-hour window, if you get a reply from the person you can have a conversation with, any number of messages within that 24 hours are free and you won't be charged anything for it.
There are particular criteria set by Meta that determine when a conversation is open in that 24-hour window and how it is categorised into different categories.
There are 4 categories in which conversations are categorised by Meta:
Marketing: These conversations are centred around all the marketing activities a business does to make its audience aware of the product/service they are offering. Be it promotions or offers during festivals, informational updates, or invitations for customers to respond or take action.

Utility: These are the conversations about all the transactions of the business. They include transaction confirmations, transaction updates, and/or post-purchase notifications.

Authentication: This allows the business to authenticate its users by providing them with OTPs. These conversations are all about account verification and account recovery.

Service: These are the conversations which are initiated by the users. When customers inquire about the product/service or need support to solve an issue. Those conversations fall in the category of Service
WhatsApp charges you less if the user initiates the conversation (UIC) as compared to a conversation initiated by the business (BIC).
The Marketing, utility and Authentication categories fall under Business-initiated Conversations (BIC) whereas Service falls under the category of User-Initiated Conversations (UIC).
Business Initiated Conversation (BIC) Charges
The 3 types of BIC have different charges per conversation,
Marketing: (₹0.72/Conv)
Utility: (₹0.30/Conv)
Authentication: (₹0.30/Conv)
These charges are for a single conversation and open a 24/h window. Think of it as, you have sent marketing messages to prospects and customers at 1 p.m. on Monday, now till Tuesday at 12:59 p.m. Any number of messages your business and that person exchanges are only charged as ₹0.72
User-Initiated Conversations (UIC) Charges
The UIC are of a single type:
Service: (₹0.29/Conv)
They also work in the same manner, if you receive a query from your customer at 4 p.m. in the evening on a Wednesday, any amount of messages exchanged between your business and that customer till 3:39 p.m. on Thursday is only charged as a single conversation i.e. ₹0.29.
What are the actual steps to send WhatsApp bulk messages
Now that you have understood everything about how to send WhatsApp bulk messages from the official WhatsApp API work, let's look at the step-by-step process for sending message
1. Go to manage WhatsApp templates on Facebook add a template and get it approved.
2. Then go and sign up for a free TeleCRM account.
3. The next step is to link your WhatsApp API number with the CRM and set up WACA.
4. Now upload your leads from anywhere (Excel, Google Sheets or any other source).
5. Go to the All Leads section of TeleCRM.
6. Select Bulk WACA Message
7. Select the templates that you want to use and send bulk messages on WhatsApp to the leads you want from TeleCRM.
Some key benefits of using WhatsApp API with TeleCRM
Super intuitive and easy-to-use interface of TeleCRM (India's Best WhatsApp CRM) to send Bulk WhatsApp messages.

Get complete reporting in a single dashboard.

No need to maintain a separate list of customers.

Automatically track and remove the people who have unsubscribed from your messaging list.

Instantly distribute the people who are interested, to your calling team, from within TeleCRM.

It seamlessly integrates your WhatsApp marketing, sales, and customer support communication on a single platform.

You can also set auto replies with WhatsApp Chatbot in TeleCRM.

You can avail an instant free trial of all these features, see them in action and start getting results within 10 minutes.

You can even send OTP on WhatsApp for user or payment verification.
Best sample templates for WhatsApp bulk messaging
To send bulk WhatsApp messages, you need several templates. The truth is that each WhatsApp campaign has a different purpose, so there are various templates.
Here are some samples that you can take a look at before launching your bulk message campaigns.
1. Account update notification
You can notify users through WhatsApp when they make changes to their accounts, including adding a photo, changing their password, or updating their email address.
Template:
Hello *Rahul*,
You have now enabled WhatsApp notifications for your account.
You can use it to
1️⃣ Get notified about new leads
2️⃣ Get your follow-up reminders
3️⃣ Contact our support team directly on WhatsApp for any issues
Pro Tips:
This single-message template is designed for account-related information only. Do not use it for general announcements or marketing messages.

Be clear and concise in your message. Personalize the message and Include all relevant information, such as account numbers and contact details.

Use strong visuals to grab attention. Add an image or video to your message to make it more engaging.
2. Product Launch Notification
What's the toughest thing for any marketer? To get enough traction for any product on day 1. But with a list of subscribers and WhatsApp marketing, you can make your product launch campaign an instant hit.
Template:
This is just a template msg and not an actual Honda promotion
Hi *Rahul*,
👉 It's finally here!
🚀_Today, we launch the most awaited 6th Generation Honda Activa_
You can *get your hands on it for the next 24 hours at a special discount*.
Offers last till tomorrow!
Key Strengths of this template
This message template can be used to hype up your new product while also offering a discount to potential customers.

People will also know this will not last forever, so they have a sense of urgency to act.
3. Order Notification
Sending WhatsApp notifications for orders is the easiest way to delete your users because it gives them an easy and direct way to connect for any support queries
Template:
Hey _Abhi_
You just purchased TeleCRM Pro. (Order: *#40421*)
Your active number is *+91 9993373283*.
_Reply with *correct* to activate your license._
Key Strengths of this template
It gives the user an automated, instant order confirmation.

It is guaranteed to get a response…

This message can start the communication channel for building a long-term relationship with the customer.
4. Welcome/Intro WhatsApp Message
This is a very straightforward way of letting new leads and prospects know that if they want they can connect with your business on WhatsApp as well
Template:
Hello *Aamir*
👏 *We are pleased that you trusted us.*
👉👉 _For any questions you can write back here and get quick solutions_
Key Strengths of this template
This template helps you make a solid first impression and further provides customers with an opportunity to connect with the brand.
5. Shipping and Delivery Status Message
Every customer wants to be able to check the delivery status of his order. Sending the delivery status on WhatsApp gives them a convenient and easy way to do that
Template:
Hello *Priya*
🚚 Your order for *Blue Mildly Distressed Stretchable Jeans* has been shipped and will be delivered to your location within the next two to three days.
📍Click on the link below for live order tracking!
We hope you enjoy the product. 😊
Thank you
Key Strengths of this template
This template helps you make a solid first impression and further provides customers with an opportunity to connect with the brand.
These message templates will help you send bulk messages on WhatsApp or run bulk message campaigns.
Conclusion
Now that you have everything for sending bulk WhatsApp messages and your first WhatsApp marketing campaign you will need a platform where you will be able to manage your messaging list, subscribers, unsubscribe, and message sequences.
Try out WhatsApp Cloud API integration on TeleCRM and
Send buttoned messages, with attachments.

Use a single WhatsApp number for your entire company.

Run chatbots that engage your audience 24×7.

Apply for WhatsApp Green tick.

No chance of number banning.
---