The first 10 seconds of your call decide how many conversions you are going to get out of hundred calls.
Tell me if this script sounds familiar.
Caller X:
Namaskar sir main XYZ bank se bol raha hoon kya aap credit card lena chahenge?
I mean WTF!!
My Reply:
Nihin!
Agar mujhe lena hota to main Google kar ke XYZ bank ki site pe jaata aur form bhar deta!
Phone kaat BC!!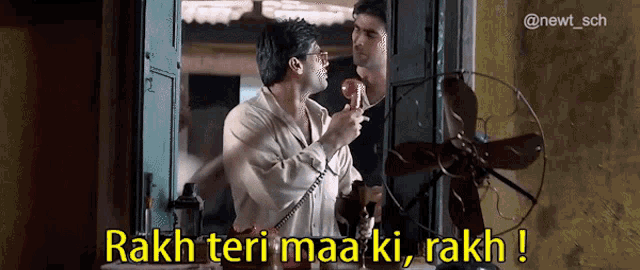 If customers disconnect your call after saying no within the first 20 seconds, then you are making the same mistake.
Then you're playing the role of a human-robot who just has to filter out the people who are already interested!
You don't have to go to the Himalayas and meditate for 20 years to improve your situation.
But before we get to the solution let's explore why this happens.
Why do people just say no and disconnect your call?
It's not because they don't need a credit card!
But because they have become fed up with the number of people who call them while they're in the potty and then try to sell them a credit card using that same-old pitch.
They hear that pitch 300 times per day and their mind has created an automatic response for that pitch.
To change the conversation, you don't need to become a sales ninja all of a sudden.
You just have to change your pitch!
Ever so slightly!
If you don't want to get the responses that spammers get then don't talk like spammers talk
Here's what you need to do instead
Step 1: Understand that you are not a human robot whose only job is to filter out two interested leads out of a database of 200.
Step 2: talk like a person with authority, instead of the same old pitch start with something like.
Hi Mr. Rahul how are you
Yes this is a little bold and not everyone will like it but no one will think that you are a spammer if this is your first line!
Are you afraid to use this technique? Think again!
Out of hundred people whose calls get connected 70 of them are already saying NO and disconnecting the call within 20 seconds.
The next step is also very simple.
Follow the same advice as above.
Step away from the copybook standard spam speech format!
If you want to increase your sales don't you dare say
are you interested in a credit card
Instead, just rephrase the line and say-
If you're facing financial difficulties I have a great offer for you from xyz bank that would be really helpful for you do you have a minute to talk about it?
What's the difference between the two scripts?
When people hear this they actually try to understand instead of thinking of you as a spammer and trying to disconnect the call as soon as possible.
The second type of script actually takes a little bit of guts, and when you do this instead then people who listen to you know that you are not just a human robot who is trying to filter out the database.
The bottom line is
If you want to grow in your career-
stop talking like a robot and start talking like a salesman.
Robot tele-callers who only filter databases to find relevant leads make 6,000 – 10,000 per month whereas a salesman who closes deals makes 30,000 and above.
So… Which one do you want to be?
Make your choice!
Choose your script!
Or at least try this out!
Because if it does not work you can always go back to hearing this –