Are you losing customers because you are unable to solve their queries and inquiries quickly? Or your WhatsApp number is constantly getting blocked because of sending bulk messages? Or your customer support team is constantly wasting time doing repetitive work that could be automated.
Well if you are here that means you are facing one of these problems. This article will provide you with information that is completely going to change the way you have been using WhatsApp for your business.
Whatsapp Automation– the solution to all your problems.
Typing out messages to so many people or trying to juggle multiple customer queries can be a real pain. That's where you will use WhatsApp Automation. With WhatsApp Automation you can chat, answer questions, and even run marketing campaigns by sending promotional bulk messages on WhatsApp.
WhatsApp Automation will help you run your business smoother by reducing manual work, keeping your customers happy by providing instant solutions to their problems, and saving you precious time and money.
In this blog, we'll explore what WhatsApp Automation is, why it's important, and how it can boost your business.
What is WhatsApp automation?
WhatsApp Automation is the use of automated tools, software, or chatbots to manage and streamline various aspects of communication and interaction on the WhatsApp messaging platform. This technology helps businesses to send messages, respond to inquiries, and execute marketing campaigns (sending promotion messages to multiple users without manual intervention).
WhatsApp Automation not only improves the efficiency of sending messages to your prospects but also boosts customer engagement.
Why is Whatsapp Automation Beneficial for You?
Efficiency is important and is the one thing that can easily distinguish your business from your competitors. WhatsApp automation is a tool that can make your daily operations smoother, and your customers happier. You can easily simplify tasks, that you didn't even know could be automated.
From providing instant customer support to sending timely appointment reminders, WhatsApp business automation is not just for big companies but is also ideal for small business owners as they have to juggle multiple roles and responsibilities.
Let's explore how WhatsApp Automation can benefit your business in more ways than one.
Marketing Campaigns and Targeted Promotions
Reaching prospects can be difficult. You have a lot of leads and sending messages manually to everyone is just not possible for your marketing team.
Not only that, traditional marketing can be hit or miss.
You may send out emails or run Facebook/Google ads, but it's hard to ensure your message reaches the right people at the right time.
But with WhatsApp automation, you can solve this problem of yours. No other communication medium is as efficient as the WhatsApp messages. You can create and schedule automated marketing campaign messages.
You can sort your customer list. This means you can gather customers into groups based on what they like, where they're from, or what business they're in. Then, you send messages that are just right for each group. WhatsApp messages are a straightforward way to talk about what they care about.
This personalized approach grabs their attention.
Now whether you're launching a new product, offering a discount, or announcing a special event, you are reaching your customers directly.
Your messages land where they will have the most impact- in your customer's WhatsApp inbox.
| | | | | | |
| --- | --- | --- | --- | --- | --- |
| | | | | | |
| | Unmatched reach in India with over 530 million users | Wide reach in India, but limited message length | Used Globally, but lower reach in India | Reach limited to Facebook users | Reach limited to Google users |
| | Highly personalized with direct messaging, group chats, and specific messages | Limited personalization due to character restrictions | Can be personalized, but less direct and immediate | Moderate personalization based on user data | Moderate personalization based on search behavior |
| | High engagement rates due to interactive messaging, multimedia support, and two-way conversations | Lower engagement rates due to plain text format and limited message length | Moderate engagement rates, but messages can get lost in crowded inboxes | Engagement depends on ad quality and targeting | Engagement depends on ad relevance and keywords |
| | High delivery rates as messages are delivered directly to the recipient's phone | High delivery rates, but limited characters hinders effectiveness | Delivery rates can be affected by spam filters, inactive accounts, and incorrect email addresses | Delivery depends on ad budget and competition | Delivery depends on ad budget and bidding strategy |
| | Most affordable means for reaching a large audience in India; allows for richer content without higher per-message costs | Less cost-effective due to higher per-message costs and limitations in message length | Can be cost-effective for global campaigns, but less effective in India | Cost varies based on ad objectives and targeting | Cost varies based on keywords and competition |
| | Mostly used by Indians, making it a preferred communication channel for almost everyone | Familiarity and wide usage in India, but not so effective because of high spam rates. | Less culturally relevant in India compared to WhatsApp | Moderate cultural relevance in India | Moderate to high relevance in India |
Whether you're in retail, hospitality, or any other industry, WhatsApp automation capabilities will help you maximize your marketing effort's influence, eventually increasing customer engagement and driving sales.
Lead Nurturing
A business is always on the lookout for potential customers. Getting leads is one of the biggest challenges faced by businesses and even if they get a lot of them, they are still unable to manage all of those just on manual calls and messages.
It's a difficult task to manage and nurture leads effectively.
Consider the missed opportunities and frustration for your team because of lead leakage.
WhatsApp automation helps you simplify lead nurturing. When someone shows interest, whether by visiting your website or inquiring about your offerings on WhatsApp. You can auto-send WhatsApp message to welcome them and grab their attention instantly.
Once lead attention is captured, you can launch automated drip marketing campaigns. These are a series of friendly messages that keep potential customers engaged, asking them relevant questions and guiding them through the journey, step by step, towards deciding on a purchase.
These consistent and automated follow-up with WhatsApp Automation ensures that no lead goes cold. This not only increases the chances of converting potential customers into paying ones but also the possibility of getting a renewal from your existing customers.
Whether you're in real estate, e-commerce, or any other industry, WhatsApp Automation will help you identify and nurture leads easily, ultimately boosting the efficiency of your sales funnel and growing your customer base.
Sending Appointment Reminders
When your customers book appointments they need constant reminders so that they don't forget to show up for the appointment.
Suppose you run a software company, and you host webinars and demos to explain your software to potential customers. When someone books a demo, you add them to the list for the scheduled date. But, not everyone who signs up will always remember to attend.
People often forget about commitments they've made.
Think about the frustration for your team when very few people show up for the demo or worse – no one! Just because they forgot. When appointments get mixed up or leads miss them you lose customers and revenue.
To make sure they show up, you need WhatsApp automation.
Auto-send message in WhatsApp to remind your participants, ensuring they don't miss out on your important events. These reminders include vital details like the date, time, and access links.
This makes sure that the person shows up for your demo and increases the chances of them buying your services.
WhatsApp automation does all this automatically so you don't need to assign a particular person for this task, just create WhatsApp template messages and set them up once and you are good to go. This not only increases turn-ups for demos but also keeps your schedule on track.
Send Order Confirmation Messages
After a customer completes a purchase, they often wonder if it went through successfully. They may worry about payment confirmation as the money has been deducted from their account, and delivery details (expected date of delivery).
Think about it from the perspective of your customers, what they have to experience if they're left wondering about their order, simply because your system is not able to send instant updates.
You can take care of these concerns easily with WhatsApp Automation. When a customer places an order or makes a purchase, an automated confirmation message is sent to them, saying something like –
"Your order is confirmed! 
It will be packed and ready to ship soon. 
It should reach you in 7 business days after shipping"
This not only addresses one of their major concerns but also keeps them informed and engaged. This will help increase customer satisfaction and build trust in your business.
Remember happy customers are more likely to return for future purchases.
Handling Customer Support and Inquiry With Ease
Your business receives inquiries from prospective and existing customers 24/7. Whether it's about product details, store hours, or any other question, people want quick answers. That's where you can use WhatsApp Automation to make the process smoother and more engaging.
Responding to every message personally is time-consuming, especially when similar questions come up again and again. Your team is frustrated by spending hours on repetitive tasks like drafting and sending the same welcome messages to every new customer or responding to the same queries by multiple customers.
Plus, your support team can't be available around the clock.
Think about the frustration customers feel when they have to wait for hours or even days to get a simple answer. This is going to make your customer very unhappy with your support system and they might just withdraw from your services.
You can overcome all these problems by implementing WhatsApp Automation in your business. It lets you set up automatic responses for common questions. You can also use WhatsApp chatbots. They will chat with customers, understand their questions, and provide answers quickly.
Chatbots act as an extra set of hands that can handle an unlimited number of conversations simultaneously.
No waiting and no delays.
So, whether it's midnight or a busy workday, your customers get the help they need, and you get to save time for your team and keep your customers happy with excellent support. It's a win-win!
How to Automate your WhatsApp Messages
There are two main ways to automate WhatsApp messages:
Using the WhatsApp Business app: The WhatsApp Business app has built-in automation features for greeting messages, away messages, and quick replies.

Using WhatsApp API: WhatsApp API is a feature officially created by Meta, that allows businesses to communicate with customers on WhatsApp. The WhatsApp API can be used for a variety of purposes, including sending bulk messages officially, scheduling messages, and automating specific tasks such as sending order confirmations or customer support responses.
1)

WhatsApp Business Automation using the Business app:
Open the WhatsApp Business app and tap on the 3 dots in the right corner of your screen
Now tap Business Tools. Now you can see the Business toll setting and the 3 messages section you want to set according to your business.
Tap on Greeting Message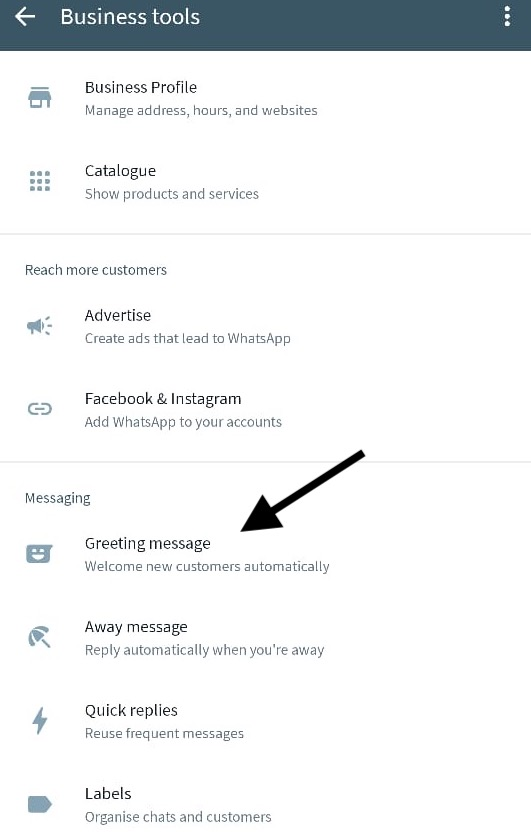 Click on the toggle button and turn the setting ON
Click on the edit button to customise your greeting message
Now your Greeting Message is created and will be automatically sent to your customers as soon as they come on your WhatsApp
Set Away Messages for your Business in the same manner
Now customise the edit message according to your requirements
Now your Away Messages are set and will be sent on Off days and when you are not available
Last Set Quick Replies the same way
Set a shortcut for your quick message and then set the content for it. As soon as you enter the shortcut in the chat, you select and send a quick reply.
Using a business app for your business is essential. It can help with automating some of the repetitive tasks that you perform on repeat mode on a daily basis. If you use CRM software and need to get all your chats into one system, you need information on How to integrate WhatsApp Business with CRM and get on with growing your business.
Benefits of WhatsApp Business App:
Easy Setup and Use: The WhatsApp Business app is simple to set up and use, with a user-friendly interface similar to the regular WhatsApp app.

Direct Customer Engagement: As a business owner you can directly engage with your customers through one-on-one conversations, providing personalized service and addressing queries promptly.

Branded Business Profile: You can create a branded profile with information about your company, products, and services you are offering.

Product Catalog Showcase: You can showcase your products or services through a catalogue feature, making it easier for customers to browse and make purchase decisions.

Automated Messaging Tools: The app offers automated messages on WhatsApp with basic automated messaging tools, such as automated greeting messages and quick replies, to streamline initial interactions with your customers.

You can even send WhatsApp automatic reply to your customers as soon as they send you a message on WhatsApp
Limitations of WhatsApp Business App:
Limited Scalability: Managing a large volume of customer conversations can become overwhelming, especially as your business grows.

Manual Response Burden: Responding to every customer message manually can be time-consuming and inefficient, especially during peak hours.

Lack of Advanced Automation: The app lacks advanced automation features for complex workflows, such as chatbots and multi-agent support.

No Integration with CRM: The app doesn't integrate with customer relationship management (CRM) systems, limiting data analysis and customer insights.

Restricted Broadcast Lists: Broadcast lists are limited to 256 contacts, making it challenging to reach a wider audience with promotional messages.
Starting with the WhatsApp Business app is fine, but as your business grows, you'll need more power, more features, and more automation. You need something that can do everything WhatsApp Business can't – and that something is WhatsApp Cloud API.
2) Use WhatsApp Cloud API To automate WhatsApp messages:
To use the WhatsApp Cloud API, businesses must first create a WhatsApp Business account and then apply for access to the API.
But first, let's see what is WhatsApp Cloud API in brief:
WhatsApp Cloud API: This is the most common version of the WhatsApp API. It is hosted by Meta officially and can be accessed from anywhere with an internet connection and integration with an official API provider.
The WhatsApp API offers features that can be used for a variety of use cases, such as the ability to:
Create and manage WhatsApp chatbot

Send marketing messages in bulk

Schedule messages

Automate specific tasks, such as sending order confirmations or customer support responses, welcome messages, etc.

Track campaign performance

Reminders for Webinars or Demos.

Send OTP over WhatsApp
WhatsApp API is not something you can download and start using just like a normal WhatsApp or business app. You need an official API provider that offers API integration and then only you can start using the tool.
Here are some examples of how businesses can benefit from WhatsApp API features and how it helps automate various tasks:
Sending Bulk Messages
When you start a business and you need to reach a lot of people, you either start calling them or sending them messages on WhatsApp. These messages mostly describe your business and give them an idea of what you are offering and how it's better than others.
You've planned for an exciting sale with amazing discounts. But you are worried if you'll be able to reach all of your target audience, customers, and leads about the sale before it goes live.
With TeleCRM's WhatsApp API integration, you can instantly reach all your customers with the WhatsApp bulk messaging feature, informing them about the sale.
It's as simple as clicking a button to inform them and grab their attention. Whether it's a flash sale, product launch, or special promotion, TeleCRM makes customer communication on WhatsApp easy and effective without requiring a lot of manual effort.
The most important part- your WhatsApp number doesn't get blocked because WhatsApp API is officially provided by Meta.
Scheduling Messages
In a business sending messages at the right time makes a lot of difference. Think of it as you have a business that offers subscriptions for services, you need to send reminders to your customers when their plan is going to expire. But your team always misses the mark they are either late or early and the customer forgets to renew his/her subscription. You need a tool that can help with scheduling messages.
With WhatsApp API, you can create automated messages and schedule them to go out at the moment that is right for you. This ensures your customers receive timely updates about when their plan is expiring or when a new feature is going to be available for download.
You can also set up messages to greet them on their birthdays or anniversaries. This not only shows you care but also makes them feel extra special. Plus, offering a special discount on their special day can boost the chances of them making a purchase.
Automating Tasks
Sending order confirmations manually is a time-consuming task. It's frustrating for customers when they don't receive immediate feedback about their purchase.
When a customer purchases a product/service and they want instant confirmation and delivery details. If they don't receive this information promptly, it can lead to confusion and a bad image of your business.
With WhatsApp API, you can automate the order confirmation process. As soon as a customer places an order, the system instantly sends an order confirmation message. This message includes all the essential information: what they bought, shipping details, and expected delivery dates.
This ensures that your customers are informed and reassured about their purchases and makes your customers feel appreciative of your quick service.
Creating and Managing the WhatsApp Chatbot
Customers expect quick responses and solutions to their inquiries no matter what business you do. However, it's challenging to provide 24/7 customer support.
Imagine a potential customer who visits your website, eager to make a purchase or get answers to their questions or needs more information particular topic.
If they can't find the information they need or don't receive immediate assistance, they may abandon their shopping carts or look for alternatives.
With WhatsApp API, you can deploy WhatsApp chatbots that work, when your support team is unavailable. These chatbots are designed to handle common customer inquiries, provide order status updates, and even qualify leads with the button feature by asking them a set of questions set by you.
Not just that they act as an auto-reply for WhatsApp feature and engage customers instantly.
They ensure that your customers receive prompt assistance and information, which is going to improve their experience with your business and increase the likelihood of conversions.
Webinar and Demo Reminders
Are you hosting an important webinar or demo? People need to understand in depth about the service or product that you are offering. You cannot convey all the details just through messages or calls. People need visuals to properly understand the use cases and functioning of your product/service.
With WhatsApp API, you can set an automation for a sequence of messages to be sent to leads, let's say, 1 hour before the demo, 30 minutes before the demo, and 5 minutes before the demo, or in any way you decide.
Whether you're a retailer, travel agency, online business, tech company or any other business small, medium or large enterprise, TeleCRM is your go-to solution to enhance your messaging operations.
Provides outstanding customer experiences by delivering timely and accurate updates and helps you achieve your marketing and communication goals with ease.
OTP on WhatsApp
Businesses send OTPs to verify the customer's identity when they are logging in to their accounts or making a payment to ensure security.
With WhatsApp API integration, you can send OTP directly on the customer's WhatsApp for login access or if the customer is making a payment for a purchase. It's a fast, secure and hassle-free process that doesn't require any manual work.
What is an official WhatsApp API Provider?
To start using WhatsApp API, you need an official API provider. Without a provider, you won't be able to use WhatsApp API as it doesn't have an application of its own.
An official WhatsApp API provider that will not only help you with sending messages but also provide you with automation capabilities of all WhatsApp messaging features for your business.
Why just limit yourself to basic automation features for your business communication with Whatsapp API, when you can streamline other important aspects of your business such as calling, report generation, lead management, lead distribution, and performance tracking information?
That's where TeleCRM (India's Best WhatsApp CRM) comes in as an official WhatsApp API provider.
WhatsApp Automation for Different Industries:
WhatsApp Automation for Real Estate
In real estate sales pipelines are much longer than in any other business. The reason is homes cost a whole lot more than, say, a car or a phone. So, people take their time to think things over. They look at their options, explore all the other options, and only then make a decision to buy a home.
Now, this means that as a real estate business owner, your salespeople have a big job. They have to stay in contact with potential buyers, get what these buyers are looking for, plan follow-up meetings whenever they are available and free to talk, show them homes that match their interests, and even, help with getting the best financing deal from the bank (money part) so they can buy the property without any hiccups.
Staying in touch with potential buyers involves lots of messaging. WhatsApp automation can be used to make the process smoother and more efficient. You can automate the manual part of sending messages, which will help you to keep potential buyers interested. These automated messages keep the lead warm and interested by sending them messages from time to time and even convincing them to buy.
You can use WhatsApp business automation features for the following use cases:
Schedule Messages: To send follow-up messages about a property inspection.

Send Bulk Messages: About the launch of a new project by your company and information regarding when the bookings are open for it.

Set WhatsApp ChatBot: You can set up a WhatsApp chatbot and answer common queries of your customer instantly and even filter irrelevant leads out of your system by asking a set of questions with the chatbot.

Drip Marketing: You can use the automation capabilities to start a drip marketing campaigns, and send automated messages.
WhatsApp Automation in the Education Industry
Educational institutions have to manage extensive communication daily with leads, students, parents, teachers, and staff. This includes sharing student's progress reports with parents, notifying students about important dates, informing teachers about upcoming events, and keeping staff updated about various activities.
Handling this extensive communication manually can be an overwhelming and time-consuming task for your team. It will lead to delays in sending messages to everyone, errors like sending the message to the wrong recipient, and significant administrative challenges like sending correct details to everyone.
With WhatsApp business automation you can solve these issues. You will be able to automate communication by sending messages automatically to everyone related to your institution. This not only streamlines processes but also reduces the chances of error and enhances overall efficiency. Making sure that everyone stays informed about important updates and events.
WhatsApp business automation features you can use for the following use cases:
Send Bulk Messages: You can send bulk messages to all the students informing them about the examination schedule, assignment submission date, etc, or send promotional messages to your leads.

Set Reminders: You can send reminder messages to parents or students about the fee deposit or the last date for submission of documents etc.

Set Automated Messages: Send multiple messages to leads, to convince them to choose your institution for further studies, and keep them warm by constantly giving them a nudge to fill out the form or complete the admission process.
WhatsApp Automation in Financial Services
As a financial service provider, you need to maintain extensive communication with your clients, partners, and employees. This includes sharing financial updates (details about the Portfolio), transaction notifications (Buying and Selling), account statements (all the details about the user account), and other financial information.
Handling this extensive communication manually can not only be time-consuming but also has a lot of possibility for errors. This may result in a lot of financial discrepancies, dissatisfaction or frustration for customers, and operational inefficiencies (sending wrong details to the wrong users).
WhatsApp business automation is your go-to solution. With it, you can automate communication with your clients, ensuring that they receive financial updates, transaction notifications, and other essential information accurately and promptly.
With WhatsApp automation, you can sort your potential customers based on what they need. Let's say you offer 8 different types of loans. You can use the buttons in the WhatsApp Chatbot to organize them. Then, you can match them with a salesperson who knows about their specific industry.
For example, if someone is interested in health insurance, you can sort and send them to the health insurance team. They can then guide the potential customer through the sales process.
This reduces the risk of human errors because the messages are pre-loaded and not typed in a hurry. This not only increases customer satisfaction but also streamlines your business operations.
Use Cases:
Automated Client Updates: Automatically send financial reports, investment updates, and transaction notifications to clients, keeping them informed about their financial status.

Send Bulk Partner Notifications: Keep partners informed about important financial events, regulatory changes, stock market trends and new investment opportunities.

Reminders: Send automated reminders to your clients about the next meeting with their advisor.
WhatsApp Automation in Tours & Travels:
Tour and travel companies need to maintain timely and precise communication with customers. This includes sending them flight information, booking confirmations, travel itineraries, trip updates, and promotional offer announcements.
This extensive manual communication is very time-consuming and has a high probability of sending the wrong or incorrect information to your customers. It will lead to booking discrepancies, frustrated customers, and bad word of mouth which is a big factor in the Tours and Travel business.
WhatsApp business automation helps you get a practical solution. You can use it to automate a lot of messaging tasks at your hand like sending flight booking confirmation, details about the holiday package for your customer, sending them a full itinerary of their trip, online payment info for smooth online transactions etc.
This will not only reduce your manual workload but also reduce the risk of sending the wrong info to the wrong customer significantly. Sending info on WhatsApp is the most appropriate as the customer can instantly access it rather than on an email or SMS.
Use Cases:
Booking Confirmations: Send automated booking confirmation messages with trip details to customers.

Travel Itineraries: Keep travellers informed about their trip with automated messages that include details about flights and hotels and any other updates.

Setup WhatsApp ChatBot: Setting up a WhatsApp chatbot can help you answer common customer queries, giving them details about your business's offering through the chatbot and if the lead is interested connect them with an agent for further details and booking of their package.
Conclusion
WhatsApp Business Automation will completely change the way your business communicates by scheduling messages and sending reminders, sending bulk WhatsApp messages, deploying WhatsApp chatbots and automating manual tasks in WhatsApp.
The benefits are clear. Whether you run a small business or a big one, WhatsApp Automation simplifies daily tasks, like customer support and appointment scheduling. It ensures that your customers are happy with quick resolution to their queries and problems, and your business runs efficiently.
But here's the real deal: When you team up WhatsApp Automation with TeleCRM, productivity gets boosted. With TeleCRM you can go beyond sending messages. It helps with other important business stuff, like handling calls, tracking team performance, and managing leads.
So, whether you're sending messages for a sale, or confirming orders, TeleCRM will make your business super efficient because it's easy to use, efficiently manages leads and effectively helps you connect with more and more leads.
In the end, it's all about giving your customers a great experience and making your business better. So don't miss this chance to take your business to the next level. TeleCRM is the key to making it happen. So, go ahead and book a demo today!