Don't know how to sell a credit card on call? Read this 👇🏽
Selling credit cards over a cold phone call is tough
People hate credit card salesmen.
They have auto-blocks enabled.
Most people you call won't talk to you for more than 20 seconds.
You'd have to call 100s or even 1000s of people over 4-5 days just to get 1 order.
This is why most entry-level salespeople get less than 10 orders per month.
But what if YOU can
Hold a conversation on almost every call that connects?
Create value and build trust EVEN IF THE CUSTOMER IS NOT INTERESTED IN BUYING RIGHT NOW?
Effortlessly get permission to follow up and get easy referrals?
Easily beat your peers and achieve 2x-4x the targets?
Interested? Let's look at the step-by-step process for that!
---
Step 1: Understand the mistakes that most credit card salespeople make and how you can use that to your advantage!
Mistake #1 Automated/impersonal calls
I received an automated voice call today –
Get SBI SimplyClick credit card and get 10X reward points
I have been using an SBI credit card for 8 years, but I have never used their reward point. What if it was a sales executive who knew the history of my association with SBI? He would have been able to guide me properly on how to use the reward points and even upsell to a card that offers more reward points! But as a sales executive, you can't go through 5 different files before every call.
That's where a handy Loans and credit cards can help you. With TeleCRM's complete history tracking feature, you can check the entire prior history with any prospect before making a call, including calls, orders, website visits, messages exchanged across your team, and more…
The worst part is most of these teams never realize that they have a problem because they never conduct a sales audit.
Something like
Hello, main Rohit, XYZ bank se. Kya aap humara credit card lena chahenge?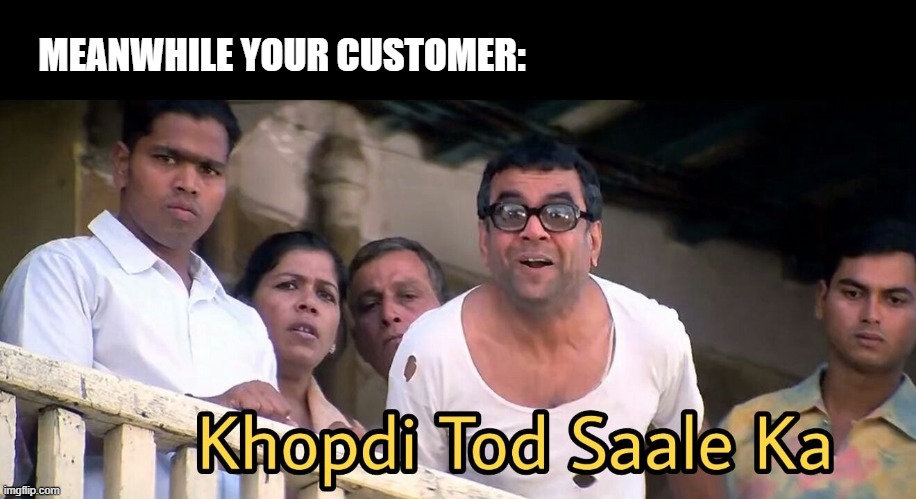 This is the standard line that every credit card sales agent uses and here's the typical response.
Pata nahi kahan kahan se aa jaate hain
People receive 8-10 calls like this and only disconnect in frustration because these are spam calls that waste their time.
This is where YOU have a great advantage.
Step 2: How to design a script that can actually turn cold prospects into closed deals?
Instead of using an automated system or mugged up the first line like –
Hello, main Rohit, XYZ bank se. Kya aap humara credit card lena chahenge?

You can show the customers how they can get all the relevant information within a few minutes on this call itself.
Because it is scientifically proven that people are more likely to listen if they think that they will benefit from the conversation.
A step-by-step framework to design a killer sales pitch for credit card
Start by confirming their name and details to create a sense of familiarity.
Share references through whom you have connected to build some trust.
Ask them questions about the problems they might be facing due to the absence of a credit card.
Instead of blurting out 50 different offers on 17 different card types, you can ask them the right questions to figure out their use case and then suggest a card accordingly.
Instead of just trying to sell to complete your quota hard!
A few basics to keep in mind.
#1 Know your unique selling proposition for any specific user
USP means features that your credit card has in comparison to others in the market for that specific user. For example, You could ask them what they do for leisure. If they reply that they like to travel, you could pitch them a travel-related credit card with attractive discounts on top-tier hotels & flight tickets etc.
#2 Keep it simple
Tap into their interests and hold a proper conversation.
Don't mention the complexities in the very first call.
Because first they must talk to you and like you in order to understand the benefits of your card and purchase.

Also Read: 4 Types Of Telemarketing That You Must Understand To Grow Your Business

Here's an example blockbuster tele-calling script for selling credit cards
You: Hello, is this Mr. Amit?
Amit [the prospect]: Yes! Who is this?

You: Hi Mr. Amit this is Rahul calling from Axis bank. Got your reference from Abhishek! He suggested that you could benefit greatly from the information that I am about to share!
(This bit is important as it tells him who I am and why am I calling him. i.e. why should he not disconnect to my face)

Mr.Amit, do you travel or go to the movies more frequently?
Amit: I travel more frequently, but how is that relevant?
(A bold question that forces him to make a choice and helps me tailor my pitch further.)

You: Actually I can help you save a lot of money every time you travel!
Would you like to know how you can schedule your stay at top-notch hotels at discounted rates?
(Notice how instead of stating all benefits of every card I am only talking about that part of the offer that's relevant to his use case.)

Amit: What do you mean?
You: With our platinum credit card you can get a flat 10% cashback on hotel bookings and 4% on flight tickets and retail purchases.
(Specifics of the offer to be provided only after he asks)

Amit: Do you mean 4% on any flight ticket or retail purchase?
(A question like this specifically related to your offer means it's relevant and he is hooked, now you just have to not fuck up and you will get the sale)

You: That's right, plus there are no hidden charges, the first year is absolutely free. And if you spend more than 1 Lakh in the first year then the fee of 500 for the second year is also waived off!

Amit: Ok! What's the process?
You: I've just sent you the link, ok you have to confirm your details. A document executive will come in to collect the right documents from you and your credit card will be dispatched within 3 to 4 working days.
(Once you know he is interested, give him a simple 1 step call to action. If you give him 50 step form and waste 1 hour on the call he will get frustrated and 
---
FAQs about selling credit cards
1. What if you don't have a reference contact?
Just start with the value proposition.
I am calling from Axis Bank regarding a new credit card that'll save you a lot of money every time you travel! Do you have a minute to talk about it?
Key idea: I have a lot of value to offer, and I won't waste your time if it's not relevant.💡 You can also use the history tracking feature of TeleCRM to segregate the list of people who fall in this category.
2. What if the prospect is not interested?
90% are already hanging up on your face, even if 10 out of 100 people talk to you that's 2x results! Plus it's important to find the relevant people and focus on them instead of trying to close every prospect. Plus you can create value and build trust even for people who are not interested!
If you do not follow up with the people who you have conversations with but are not interested right now then you are leaving a lot of money on the table.
3. What if I don't know/understand his pain point?
Ask presumptive questions, and get creative. Instead of pitching the first step is to understand.
If you skip this step and pitch without understanding his needs or building trust, you are bound to fail!
4. What if the client has never used a credit card before?
He will say something like
I don't use credit cards"
Instead of just saying ok and disconnecting, use this as an opportunity…
I understand, so I won't try to offer but would you like to know 3 things that you must keep in mind before getting a card, in case you ever plan to get a card.
5. What if the prospect is still not interested?
That's fine a lot of people won't be. No matter how creative or bold you are. You can still do 3 things
Ask for feedback – "I understand that you don't need a card, but was I able to add some value"
Schedule a follow-up call– "But can I call you next month to see if the situation has changed?"
Ask for a reference – "I understand this is not useful for you but do you have a friend who could benefit from this?"
6. What if my calls are not this simple?
It takes years of experience before you can close over a single call. Most of the day is that your clothes will be over 3 to 5 calls.
Call 1: Have a conversation and get him hooked.
Calls 2-4: Explain the benefits for HIM without being too pushy or salesey or he will just abandon the conversation.
Call 5 – Simple 1-2 step process to proceed with low barriers to committing and taking action.
Conclusion
If you've read the article till this point, you probably now know how to sell credit cards on call, if not, here's a quick overview of all the things discussed above.
The core idea behind this way of doing telesales is – don't be a robot.
Value the prospects' time.
Ask for permission to sell.
Ask the right question to understand their situation & needs.
Provide as much value as you can in return for their time.
Pitch only after delivering value and creating trust.
Understand that it's their right to reject your offer despite your best efforts and that's fine. Move on to the next prospect and repeat the cycle!
Plus you can always get help to improve your pitch
Comment below for any questions that you have and somebody from our team will help you fix your sales pitch
---